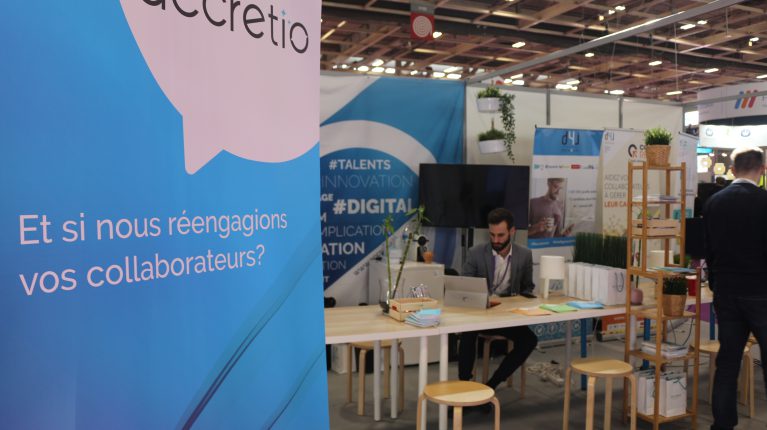 The HR Solutions Expo took place in Paris, Porte de Versailles, from March 19 to 21, 2019. An edition rich in innovations around human resources management: HR digitization, digital transformation, Artificial Intelligence, skills management …

For this 26th edition, the HR solutions expo was once again able to attract its visitors with more than 320 exhibiting companies, 9,084 professional visitors and more than 11,000 listeners at conferences and workshops. This meeting of human resources professionals has surfed digital trends.
For two and a half days, this edition is aimed at business leaders, HR managers, training managers, and CIOs.

On this occasion, "the right tips" was the conference at which Accretio presented the latest trends in tools and services dedicated to Human Resources. Tarek Messadi, CEO of Accretio said at the conference: "We were present at the salon to present our solutions and new products through a digital workplace that simplify the management of the HR field, improve employee engagement, management talents, and guaranteeing better communication within the team and above all driving change within the company. "
HR is looking for the best management tool to simplify the work of their teams. In term of Planning and communication, because those are the key success factors.
Automating HR processes also means freeing yourself from traditional tasks (archives, papers, etc.), to allow more time for essential tasks.


Accretio supports its partners in their digitalization. It is essential today to choose the tool that suits the needs of each business. Examples: Leave, expense reports, collaborative space, recruitment, training management, etc., our platform simplifies the administrative processing of any type of organization.
Also, the new mobile application has landed in "Apple store" and "Play store". This platform allows you to manage your administrative processes from your smartphone.
Can we take you on a ride in digital workplace?
Contact us to make an appointment with our experts.